Saturday, 25 November 2023
1:30 PM Manchester City v Liverpool
2:00 PM Rayo Vallecano v Barcelona
3:00 PM Formula 1: Qualification of Abu Dhabi
3:30 PM Borussia Dortmund v Monchengladbach
3:30 PM Werder Bremen v Bayer Leverkusen
4:00 PM Newcastle United v Chelsea
4:00 PM Burnley v West Ham United
6:30 PM Brentford v Arsenal
6:30 PM Eintracht Frankfurt v Stuttgard
8:45 PM AC Milan v Fiorentina
Sunday, 26 November 2023
2:00 PM Formula 1: Race of Abu Dhabi
3:00 PM Spurs v Aston Villa
5:30 PM Everton v Manchester United
5:30 PM Hoffenheim v Mainz 05
6:30 PM Cadiz v Real Madrid
8:45 PM Juventus v Inter Milan
Tuesday, 28 November 2023
6:45 PM Lazio Roma v Celtic
6:45 PM Shakhtar Donetsk v FC Antwerp
9:00 PM Manchester City v RB Leipzig
9:00 PM Paris St Germain v Newcastle United
9:00 PM AC Milan v Borussia Dortmund
9:00 PM Barcelona v FC Porto
 9:00 PM Feyenoord v Atletico Madrid
 
Wednesday, 29 November 2023
6:45 PM Sevilla  v PSV
6:45 PM Galatasaray v Manchester United
9:00 PM Bayern Munich v FC Kopenhagen
9:00 PM Real Sociedad v Red Bull Salzburg
9:00 PM Benfica v Inter Milan
9:00 PM Real Madrid v Napoli
9:00 PM Arsenal v RC Lens
Thursday, 30 November 2023
6:45 PM AZ Alkmaar v Zrinjski
9:00 PM Marseille v Ajax
Friday, 01 December 2023
8:30 PM Darmstadt 98 v FC Cologne
8:45 PM Monza v Juventus
8:45 PM UEFA Women's Nations League: England v Netherlands
Saturday, 02 December 2023
2:00 PM Girona v Valencia
4:00 PM Burnley v Sheffield United
4:00 PM Brentford v Luton Town
4:00 PM Arsenal v Wolves
6:00 PM Lazio Roma v Cagliari
6:30 PM Nottingham Forest v Everton
6:30 PM Stuttgard v Werder Bremen
6:30 PM Real Madrid v Granada
8:45 PM AC Milan v Frosinone
9:00 PM Newcastle United v Manchester United
Sunday, 03 December 2023
3:00 PM West Ham v Crystal Palace
3:00 PM Liverpool v Fulham
3:00 PM Chelsea v Brighton & Hove
3:30 PM Mainz 05 v Freiburg
5:30 PM Manchester City v Spurs
5:30 PM Bayer Leverkussen v Borussia Dortmund
6:00 PM Sassuolo v AS Roma
7:30 PM Augsburg v Eintracht Frankfurt
8:45 PM Napoli v Inter Milan
9:00 PM Barcelona v Atletico Madrid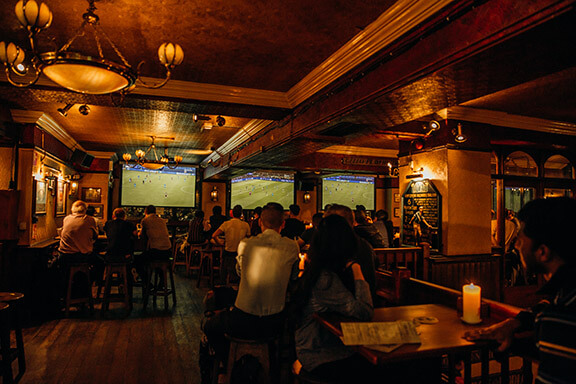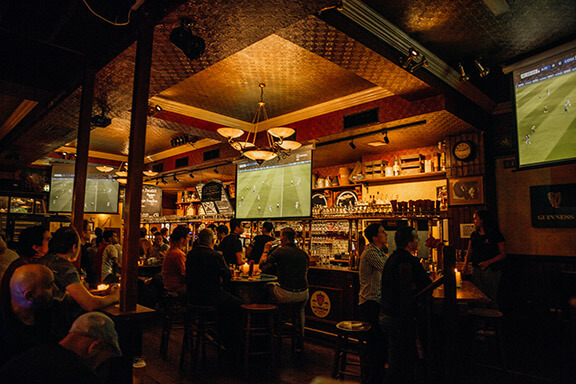 With 9 big screens, more than 200 different beers, a full food menu, plenty of room and a city centre location, we hope we will be your first choice to watch your favourite game. We currently show the English Premier League, several cup games, Europa League and Champions League football, FIFA World Cup and EUFA EURO Cup, 6 Nations Rugby and Formula 1. If there is a game you would like to see, don't hesitate to shoot us a message so we can see what we can do for you!
Before we forget: sports are mostly shown upstairs, with some exceptions for big games. Upstairs tables are on a first come first serve base.
There are no reservations for sports possible.