Donderdag 23 January
21:00 – Wolverhampton Wanderers v Liverpool
Zaterdag 25 January
13:45 – Brentford v Leicester City
16:00 – Southampton v Tottenham
16:00 – Valencia v Barcelona
18:30 – Hull City v Chelsea
Zondag 26 January
12:30 – Inter Milan v Cagliari
14:00 – Manchester City v Fulham
16:00 – Tranmere/Watford v Man-U
18:00 – Shrewsbury Town v Liverpool
18:00 – AS Roma v Lazio
20:45 – Napoli v Juventus
Mandag 27 January
21:00 – Bournemouth v Arsenal
Woensdag 29 January
20:45  -Manchester City v Man-U
20:45 – West Ham v Liverpool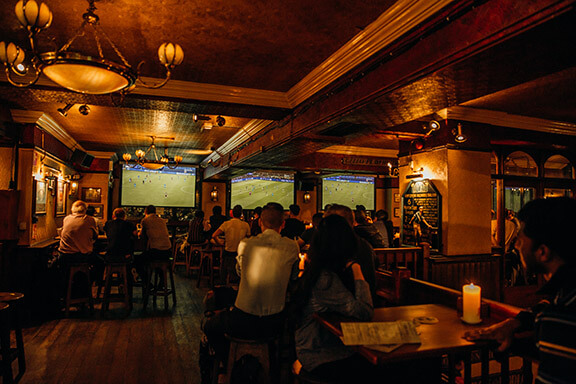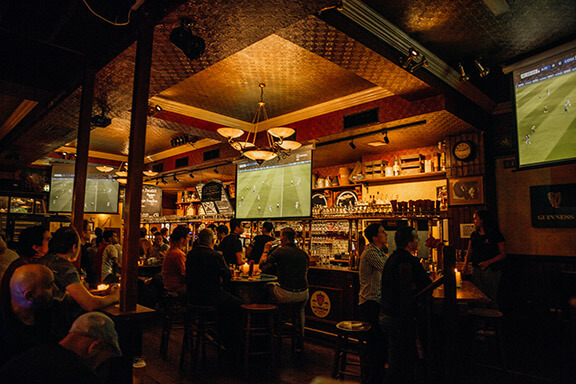 Met 7 grote schermen, de uitgebreidste bierselectie van Den Haag, lekker eten, veel ruimte en hartje centrum, hopen wij dat wij jouw eerste keuze zijn voor sport. Op dit moment laten wij de Engelse Premier League, Europa League, Champions League voetbal en verschillend bekervoetbal zien. Als er een wedstrijd is die je zou willen zien neem dan contact met ons op en we zullen kijken of we het kunnen laten zien.
O ja, voordat we het vergeten, voor alle grote wedstrijden zetten wij al onze schermen natuurlijk aan! De meeste sport laten wij op onze eerste verdieping zien. Bekijk hieronder voor de komende dagen welke wedstrijden we in ieder geval laten zien.
Pub Quiz met Question Mark
A proper English pub quiz hosted by the amazing Question Mark. Put your team to test to win prizes in rounds of general knowledge, sports, music and more. Reserve your table before 7pm.